Posted by Chris Ciminera, CPA, QKA
Disclaimer: All blog posts are valid as of the date published.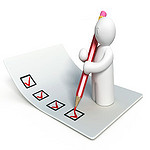 When it comes to an employee benefit plan audit, having the right information ready in a timely fashion is imperative for a smooth and efficient audit. Since the retirement plan audit season for plans with a June year-end is going strong I am providing a link to the AICPA's EBPAQC 403(b) Retirement Plan Audits Sample Auditor Request List for Plan Information. This list is provided on the American Institute of Certified Public Accounts (AICPA) Employee Benefit Plan Audit Quality Center (EBPAQC) 403(b) Plan Resource Center. Included in this sample auditor request list are documents separated into sections titled:
General Plan Information
Plan Internal Controls
Financial Reporting Information
Cash and Investments
Contributions,
Rollovers and Forfeitures,
Benefits Payable and Expenses,
Compliance Testing Documentation, and
Participant Data Documentation.
The list isn't all-inclusive, but it contains most of the information necessary to perform an audit of an employee benefit plan. Hopefully, this tool will be a good indication of what to expect for plan sponsors who have never undergone an audit and a good refresher for the veterans.
Photo by AJC ajcann.wordpress.com (License)