Posted by Saaib Uppal, CPA
Every year, right around December 31st (and closer to January 1!), we sit down and start to draft up resolutions for the upcoming new year. Whether it's aiming for a healthier life style, setting aside for targets at work, or perhaps being more fiscally responsible, it's important to not only make these goals, but to have a plan in place for accomplishing them as well.
Thanks to a recent IRS announcement, we have the relevant information required for the latter category.
Below is a chart that outlines employee benefit plan limits for 2016: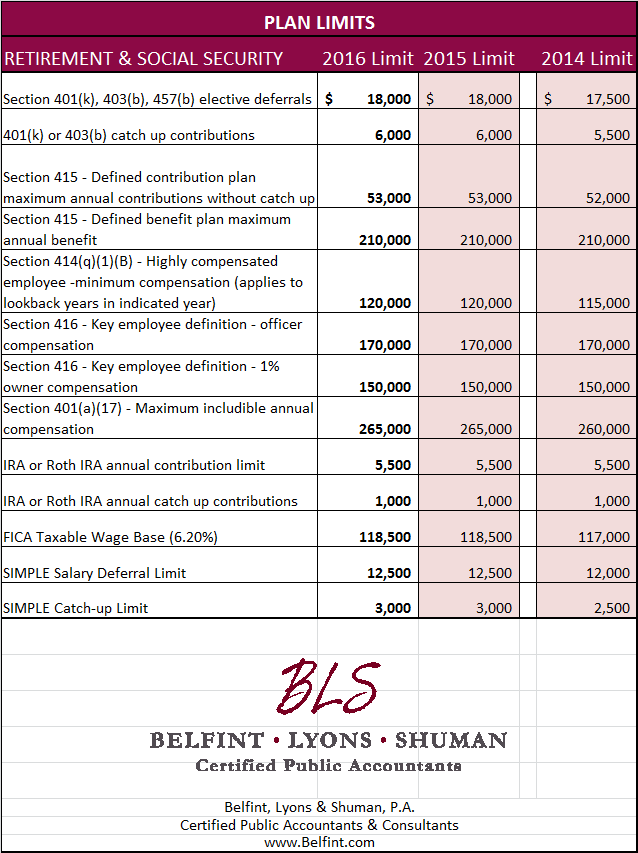 Plan administrators should ensure that they pass along this new information to their participants so that they can ensure they have all the required information in planning out 2016.
Contact Us
If you have questions or seek additional information on this subject, please contact our Employee Benefit Plan Team.
Maria T. Hurd, CPA
Director/Shareholder
Retirement Plan Audit Services
mhurd@belfint.com
302.573.3918
Chris J. Ciminera, CPA, QKA
Manager – Accounting & Auditing
cciminera@belfint.com
302.573.3953