Posted By Maria T. Hurd, CPA, RPA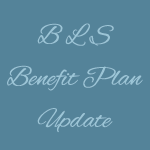 Our Benefit Plan Audit Team, as well as the entire BLS CPA Team, is continuously monitoring the rapidly changing landscape in an effort to provide you with updates related to legislative relief or changes that may affect you, your business, or your clients. As provisions or changes directly related to benefit plans occur, the BLS EBP Team will be sure to keep you updated.
Below is a link to a recent post in the firm's tax-related blog, A Matter of Tax. In it, one of our Tax Partners discussed the new rules for taking hardship distributions and loans from qualified plans and IRAs. He hits the nail on the head when he says that many Americans are taking a beating in many ways as a result of the COVID-19 pandemic. The EBP Team will be writing a more detailed outline related to this topic with retirement plan-specific information and the logistics of the new rules.
For now, enjoy the information linked below.
Please visit our COVID-19 Resource Center for additional insights
As always, we are committed to delivering quality audits with the least possible disruption to your daily responsibilities, while assisting you and your business while going through these unprecedented times. Don't hesitate to reach out to us directly or email us at info@belfint.com.
Stay safe!
Maria, Chris, Stacey, Saaib, and Tyler
The EBP Audit Team